Ask any parent what their most favorite extracurricular duty of parenthood is and they'll tell you it is totally embarrassing their kid.
Sometimes it's really easy to get the cheeks of our babes to Embarrassment Level: Rosy. Other times it takes cunning skill and major commitment.
Here are nine ways to totally embarrass your kid:
1. Wear mega lame clothes that you think are cool.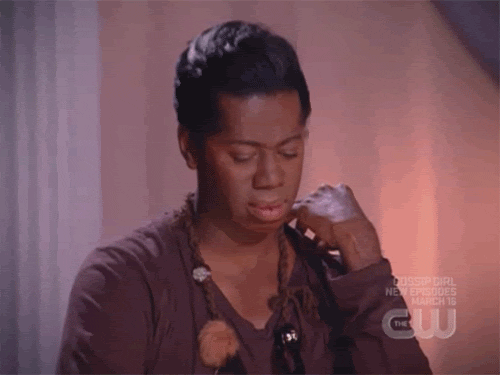 source / giphy.com
Sometimes it's smart to trust when they tell us the crop top isn't a great idea. But for the most part, pizza slice t-shirts are wonderful and fashion forward. I mean their friends are wearing them. Why shouldn't we?
2. Be overly affectionate at school in front of their friends.

source / reactiongifs.com
Even though their face winces and grimaces and the sound that flies from their mouth makes you wonder if they need to visit the porcelain throne to address "back up", deep, deep, deep down inside the very being of that human you brought into this world, is an adoration to your body cocoon.
3. Wipe their face with spit slathered all over your thumb.

source / replygif.net
Don't beat yourself up for not having wet wipes on hand because your child hasn't needed gentle wiping cloth for years now. That's why the big guy upstairs or the space explorers or whoever gave us ALL THAT SALIVA and at least ten, fully functional digits.
4. Show off embarrassing photos. Every. Chance. You. Get.

source / replygif.net
They never stopped manufacturing accordion wallets for a reason. You never know when conversation or lack thereof will trigger the memory of that one time junior dumped an entire bowl of spaghetti and meatballs over his head and, because you are a super parent, you had your phone camera cued up like you do.
5. Dance as much as possible in public.

source / imgur.com
Now is not the time for you to bury the skills that earned you the nickname "Swivel Queen" in college. Every flat or slightly angled surface is your stage. If more laid back siblings abound, have them shine a flashlight on your person as you bust a move.
6. Comment on their Facebook page. A lot.

source / imgur.com
Come hell or high water, nothing beats dad's two cents on the proud shot of an epic booze luge at the rush week sorority party. Passive aggressive status updates are the digital equivalent of a green light for a 500-word, encouraging essay from mommy dearest. The overuse of improper emojis and hashtags, required.
7. Sing really loudly in the car.

source / imgur.com
You did not invest in an at-home karaoke machine for nothing. The acoustics in a confined space like a car, filled with a pal in each available seat, is the best time to belt out the few lyrics you know to that new Taylor Swift song. Volume level: 11.
8. Tell awesomely corny jokes.

source / reactiongifs.com
In the world of comedy, there's a whole sub-category of mom and dad jokes. It'd be a waste of cheese (and how dare anyone waste cheese) if the life of a parent weren't essentially a recurring open mic night. At any time of the day.
9. Praise their accomplishments, big or small, on the side of a bus.

source / reactiongifs.com
What's better than Sally or Timmy's face plastered all over a premium two-page yearbook spread? That adorable, squishy little mug on the side of a bus rolling through a major U.S. city. Duh.