The winter holidays bring out the best in us parents. And by "the best in us parents" I obviously mean the most enthusiastic level of motivation to bring our children unadulterated joy that you ever did see.
Here are 9 over-achieving things parents do during the holidays:
1. Cheesy Matching Outfits for Christmas Cards

It's bad enough that no one on the planet looks great in oversized, fuzzy wool sweaters, but the festive coordination reaches new heights this time of year. And don't think for a second that the family pets aren't going to be involved.
2. Obnoxiously Tall Christmas Tree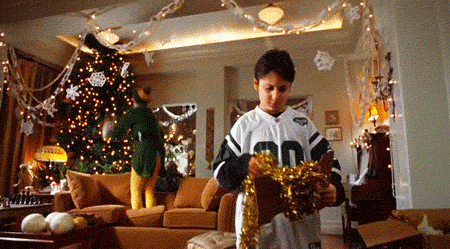 There is no such thing as dinky when you've got little faces to light up with happiness. Depending on your choice in oversized pine, you may or may not be able to catch a glimpse of those excited faces when the baubles are hung.
3. Elaborate Santa Spy Efforts

Nothing makes our children get back in line during a bout of winter break induced cabin fever quite like the reminder that one of Santa's special helpers is keeping an eye on things for the big day. We'll put those spies through anything.
4. Excessive Holiday Baking

Between an 18-bedroom gingerbread mansion and intricately detailed sugar cookies that no one is allowed to touch or eat or look at, going overboard on the holiday baking is a seasonal staple. For parents and for waistlines.
5. Dizzying Christmas Light Display

Let's be real, if you can't see the house from space WHAT IS EVEN THE POINT IN TRYING?!
6. Extreme Advent Calendar

Sure you could grab a box with 25 tiny compartments housing teensy chocolates…OR…you could wrap each door in your house as a new day to open every morning. What's behind the bathroom door on Day 14? Why a year's supply of bubble bath, of course.
7. Insufferable Caroling Performances

People may have made fun of you for grooming your family 6 months ago, but now look whose family sounds the least tone deaf at the neighborhood block party. ::shrugs::
8. Binging on Classic Christmas Movies

There's something nostalgic about cuddling up in holiday jammies, a bag of popcorn and 77 straight hours of every Christmas movie ever made. Your children will surely know every line to some of the most obscure holiday flicks ever produced. Your job is done.
9. Sending a Letter from Santa

None of this compares to the joy you can bring your child by having a letter response from the big man in red himself though. Talk about exploding with candy canes of happiness!

I've partnered with my friends at Pavilions to tell you about this nifty program that makes it easy peasy, lemon squeezy to do just that. Letters From Santa was a fun way for me to respond to the lengthy letter to Santa that my seven-year-old sent this year. It included everything from what he'd like for himself to what he'd like for his friends and why he totally earned all of it. (Bias mom moment: He totally did earn it all.) So…after we "mailed" his letter off to the North Pole, I hopped onto the website and started filling out the response letter. I was able to plug in everything from a few of his friends' names to what school he attends so that it was as accurate and convincing as if the big guy sent it himself.
Sidenote: I'm pretty certain the whole tool is powered by elves and magic so I don't think my hunch is that far off base.
This would be such a wonderful thing to even plop under the tree or in a stocking for your little ones to open on Christmas morning. It even generates a custom envelope for you to plop the letter itself into. I mean…they sort of thought of everything for you.
Let me know if you make one for your kid or kiddos this year!
This is a sponsored conversation written by me on behalf of Albertsons Stores. The opinions and text are all mine.